The Manufacturing Technology Centre (MTC) has appointed Dr Graham Hoare OBE to succeed Dr Clive Hickman OBE as its new CEO. Dr Hoare brings more than 35 years' top-level industrial and commercial experience to the role.
Dr Hickman will retire as CEO of the MTC on March 31st and as announced last year, he will become Chair of the MTC board with effect from April.
Dr Hoare is a former Chair of Ford of Britain, having spent two decades with the carmaker in a variety of senior roles. He began his career at Ford as director of powertrain research and advanced engineering at its US headquarters in Dearborn, Michigan. He was also executive director of European powertrain engineering and director of global vehicle evaluation, and in 2018 was awarded the OBE for services to the UK motor industry.
Previously, he was the chief engineer for transmissions and driveline at BMW and chief engineer, powertrain engineering, at Land Rover.
More recently, Dr Hoare briefly acted as interim CEO of Britishvolt, appointed to secure the future of the business, which has recently been acquired by Recharge Industries.
Dr Hickman, who has been CEO of the MTC since its creation 12 years ago, said: "I am delighted to report that the MTC is now a £120 million, 900 employee business with operations across the UK, and is supporting businesses large and small, regionally, nationally and internationally.
"Since its formation, the MTC has had a major impact, not only on manufacturing industry in the UK but on society as a whole, creating jobs and investment for the West Midlands and across the UK. We now have 800 young people pursuing apprenticeships and have attracted more than £800 million of inward investment onto the site at Ansty, Coventry, and is well advanced in its contribution to the UK's net zero target.
"I know that Graham, with his vast experience in the sector, will propel the organisation to the next phase in our ambitions to become an even more integral and resilient member of the UK manufacturing community. I wish him every success in the role."
Dr Hoare, who takes up his role in April, said: "I am joining the MTC at a crucial time as UK manufacturing develops to become more productive and globally competitive. MTC is recognised as a world-class leader in technology and manufacturing innovation and the task of keeping the organisation at the forefront of the increasingly dynamic advances in technology and engineering will be both incredibly challenging and exciting."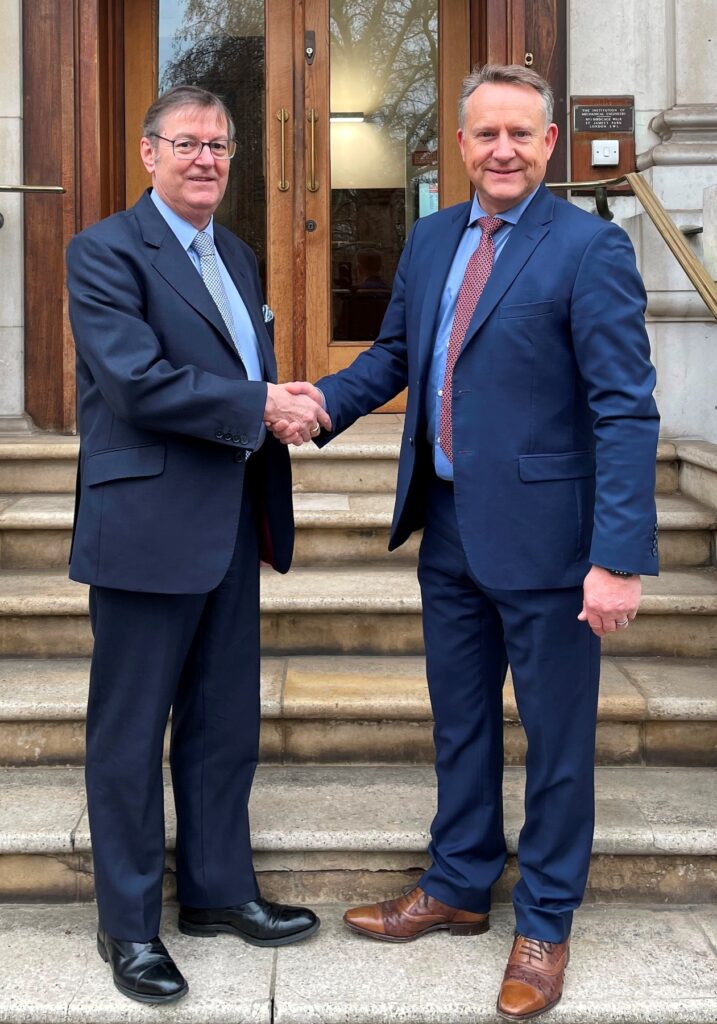 Pictured: Dr Clive Hickman OBE and Dr Graham Hoare OBE.
There's plenty of other industrial editorial on our sister site, Electronic Specifier! Or you can always join in the conversation by commenting below or visiting our LinkedIn page.