The COVID-19 crisis has caused a tremendous shock to the global economy across all industries. One of the first and most heavily impacted areas was the health care system. At the forefront of the pandemic fight, healthcare professionals and caregivers were among those who suffered the most.
Not only has the skyrocketing workload pushed caregivers to their limits, but they must also deal with the daily exposure to potentially infected patients. A recent poll by Morning Consult, a global privately held data intelligence company, indicates one in five healthcare workers have quit their jobs since Feb 2020. While nothing can replace these lost caregivers, technological advances in AI and robotics have stepped in to provide some assistance and relief.
How AI and robotics are helping to address the healthcare labour shortage
The growing workload has fuelled research to develop artificial intelligence for medical purposes. Artificial intelligence is becoming the invisible hand that keeps the healthcare workplace afloat. Potential uses vary from algorithms applied to study x-ray and electronic health data, to the latest advances in machine learning enabling robots to sense the environment or interact with human beings. In addition, service robots have been applied to automate the most repetitive processes, freeing up caregivers to work on those requiring more judgement and knowledge.
Sensing Technologies for non-invasive medical monitoring
On top of AI and robotics, sensing technologies are also helping to alleviate the strain from the shortage in healthcare workers. Sensors monitor the body's vital signs and alert medical professionals when problems arise. We will deep dive on two critical types of sensing technologies used in medical detection and monitoring:
1. Thermal imaging
How it works
Thermal imaging is used to sense the infrared radiation from a target area and provide a detailed picture of the body's temperature distribution in an efficient way. Developed originally for military purposes, it became available for medical purposes in the 1960s. It serves as an efficient and safe method for heat detection, measuring what cannot be seen by the naked eye.
Medical Applications
measuring and recording patterns and variations in the skin temperature
diagnosing breast cancer, diabetes, neuropathy, and peripheral vascular disorders
locating the source of arthritis, or catching circulation issues
2. Biomedical Radar
How it works
Biomedical radar is commonly applied in detecting vital signs. During this process, a radar wave is aimed at the surface of an object and reflected. If the object moves, the phase of the reflecting wave changes. Vibrations on the skin caused by the heartbeat are thus measured. As all values are recorded digitally, radar offers a significant advantage over manual inspections, removing human errors during the diagnosis. Biomedical radar is non-invasive, has low power consumption, and is low cost.
Medical Applications
Measuring vital signs (e.g., blood pressure, pulse rate)
Detecting movements in body position
Built with caregiving for seniors in mind
ADE Technology is one of the innovators in monitoring and detection technology, with solutions in smart husbandry, manufacturing monitoring, and patient caregiving. Recently, ADE has rolled out two solutions looking to upgrade the quality of care given to seniors. These offerings integrate thermal imaging, biomedical radar, and proprietary advanced algorithms to conduct vital signs and posture monitoring.
The data is centralised in an intuitive dashboard that updates live vital signs numbers 24/7 from all patients, giving caregivers instant access to the status of every patient. These solutions reduce caregivers' time spent traveling between hospital beds, while also minimising contact risk.
The comprehensive solution: for a non-intrusive experience
ADE's more comprehensive model monitors patients' pulse rate, blood pressure, temperature, and posture. It also provides a built-in camera and screen to facilitate clinical communication with streaming video. Different from other similar solutions that require the video feed to constantly remain on (in order to measure vital signs), ADE's solution's camera can be switched off once the clinical session is over. ADE's solution uses thermal imaging and radar technologies to monitor your vital signs without a video feed. This minimises any privacy concerns and ensures no identifiable personal info is collected.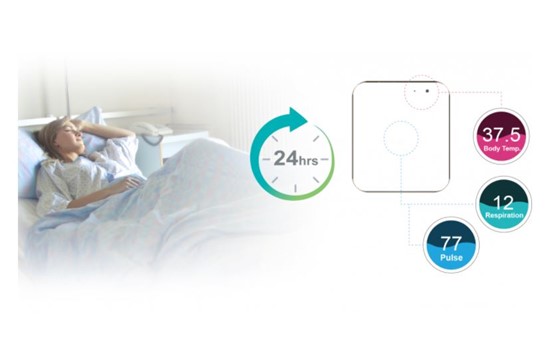 The compact solution: with voice alert to prevent falling out of bed
ADE's more compact solution focuses on detecting posture and temperature variations. In addition to being smaller in size, it is enhanced with a voice alert function to help prevent patients from falling off their bed. The voice alert triggers when the patient's body has moved out of the safe zone (a specified area where the patient is supposed to stay), notifying the patient of danger.

Data collection for AI analysis
The data collected on the patient's vital signs can also be exported for further analysis. This saves medical professionals the effort of transcribing statistics from separate devices, further helping to alleviate the strain on medical resources.
Check out our healthcare solution marketplace for more similar solutions. Or develop your own healthcare solutions with the help of TECHDesign's verified supplier network.