A handy app created to help promote social distancing on busy beaches has been rolled out nationally following months of technological developments.
Beach Check UK, launched by BCP Council last July and now funded by the Local Digital Collaboration Unit at the Ministry of Housing, Communities and Local Government, is believed to be the first of its kind in Europe, and has been developed by Xpertnest.
Chintan Panara and Arun Kar, Founders and Executive Directors at Xpertnest, help to provide the video analytics to process the footage coming from cameras deployed across the seafront as well as the consumer-facing and operative-facing apps.
"Xpertnest always looks to bring innovative technology solutions to some of the world's most pressing problems," Mr Panara said.
Mr Kar added: "That is why Xpertnest were more than happy to work in partnership with BCP Council on developing the national Beach Check UK app, to help people all over the UK enjoy a summer on the beach whilst ensuring they stay safe."
The nearly-20 footfall sensors to gather the data displaying the number of people present in the areas on the seafront have been provided by Daizy; used to decide whether an area is red, amber or green. Their main asset is the platform that consumes the data from the sensors and presents it in a format that can be checked by the rangers on the ground.
Håkan Cronqvist, VP Business Development at Daizy, said: "The beach check app makes use of the Daizy platform to deploy, manage and to deliver data normalisation from all IoT devices and we are proud of the technology we have built which allows the scaling of the beach app for present and future needs, across any network with any device."
Xtention supplies the data streamed from Daizy's platform to the app's brain to ensure the app receives the data in the format it requires and flags warnings about any beach status changes.
Siemens prepares and streams the data coming from parking occupancy.
"By extracting data via DatexII from the Siemens 'Stratos' Traffic Management System already in use by BCP (a system which coincidentally was developed in Poole), the Beach Check UK app can receive timely and accurate information on the beach car parks' occupancy status," said Wilke Reints, Managing Director of Siemens Mobility, Intelligent Traffic Systems.
"We hope this helps visitors to the area make informed decisions on where to park – so they can spend more time enjoying their day out and less sat in their cars."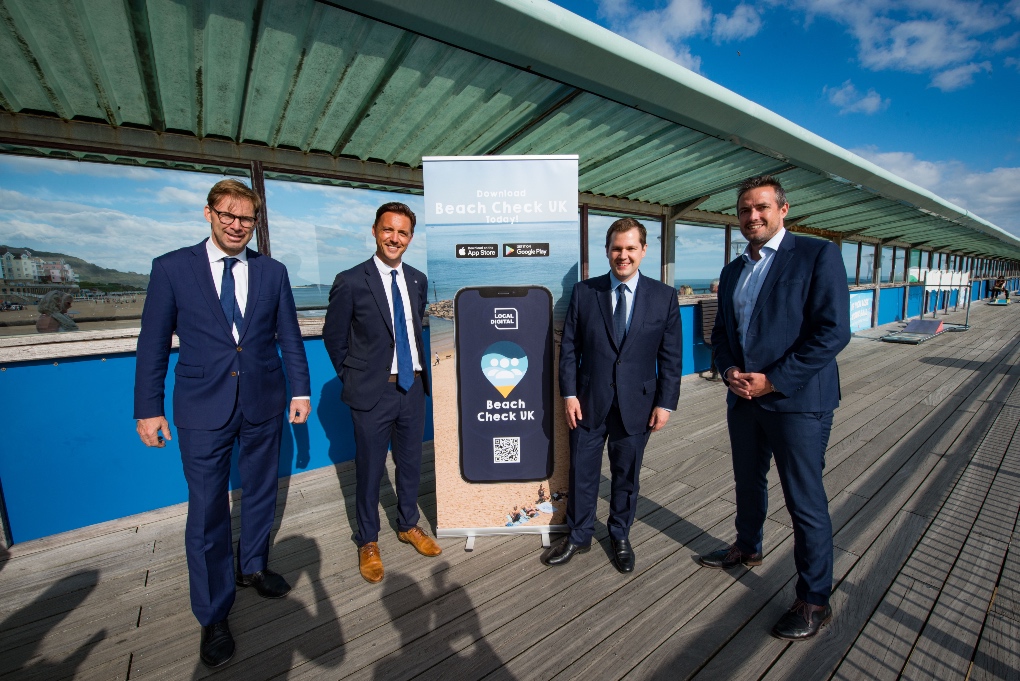 Councillor Philip Broadhead, Deputy Leader for BCP Council, said: "Our Beach App, chosen by the Government to be rolled out nationally, is a great example of how we are using our Smart Place programme to make sure we're on the forefront of how future digital solutions can be used to improve how we live, work, and connect.
"We want to go beyond those services traditionally provided by councils, and we can do this by putting the local place at the centre of our plans and providing a broader and richer set of new, innovative services for our residents.
"Whether making it easier for people to go about their daily lives, improving the prospects of our local businesses or enabling communities to function more effectively – information, data and digital technologies will play an ever-increasing and important role.
"Our ambition is to make Bournemouth, Christchurch and Poole the UK's leading Smart Place, helping to attract major private investment that enables us to create and retain more value in the local economy."