Road users are becoming used to low- and ultra-low emission zones (LEZ / ULEZ) as local and national governments ramp up efforts to reduce pollution in towns and cities. In June, Glasgow's LEZ came into force, charging a penalty rather than a fee for any vehicle not meeting the emission standard, Sheffield recently joined England's clean air zones and Oxford was the first British city to launch a zero emissions zone.
As green city initiatives roll out, they need enforcing and so demand for automatic number plate recognition (ANPR) connected solutions will grow. London's ULEZ is policed by over 1,700 cameras, and the plan is to increase these to 2,750.
Authorities and their partners collect and process vehicle data from ANPR cameras. They need reliable, resilient and secure IoT connectivity, this forms the backbone of clean air zones for green city initiatives.
Why choose cellular IoT for ANPR solutions?
ANPR solutions are incomplete without the requisite connectivity and cellular provides an ideal option. It can support rapid rollouts of connected cameras because it doesn't rely on fixed line infrastructure, which can take time to install and adds to deployment costs. Cellular is a flexible choice and ideally scalable as clean air zone boundaries extend to cover wider areas.
Security is a huge consideration for any organisation implementing a technical solution, even more so when the data involved is sensitive. ANPR cameras, the backend systems that support them, and the analytics that assess captured images must be connected securely to protect the data they handle. Cellular solutions can offer private network infrastructure, such as virtual private networks and direct interconnects, to help layer security for devices, networks and data transfer.
Resilience is another primary objective because operators need cameras that work all the time and must process the data they capture in a timely manner. In the case of cellular, uptime is bolstered through failover measures to a secondary network, should this be needed.
Automation is at the heart of ANPR solutions. It makes the whole system work by efficiently capturing and processing data at volume. The connectivity that sits between the hardware and software of a complete ANPR solution should also support convenience and ease of management. Here, eSIM with remote SIM provisioning and over-the-air (OTA) management offers a flexible and scalable solution. With this, operators can deploy additional connections, and provision them to a network, without having to send out engineers.
What to look for from a connectivity provider
ANPR operators should consider carefully how they will connect their devices and evaluate the available options to arrive at the best solution. Cost management, availability and security are likely to feature heavily in their requirements. All-round services from cellular connectivity providers should include:
Security
Comprehensive security is essential to defend against cyberthreats, detect anomalies that could indicate an attack, and react when necessary through swift action designed to protect data and assets. ANPR operators will want to protect their installations through technology, but they mustn't neglect people and process elements as these make up just as important a part of the whole solution, which if a security breach were to occur, could cost in reputation as well as financially. Partnering with a connectivity provider that follows the guidance issued by the National Cyber Security Centre (NCSC) is good practice, as is checking certification for ISO21001.
High level of uptime
ANPR is used for time-sensitive enforcement, so a quick and reliable connection is paramount to relay vehicle information back to systems operators. A high uptime level can be achieved through cellular, as it can switch networks if required to maintain connectivity. Backup data centres are another option ANPR operators should consider for added resilience.
Simple installation and management
Operators will want a complete end-to-end solution where the entire ANPR installation can be viewed and managed without the need to liaise with multiple specialist companies. A single access point name (APN) to configure all devices, regardless of which network they connect to, makes for simple installation and management.
A managed service
The goal here for ANPR operators is convenience and visibility into their entire installed base. A single bill for hardware and connectivity keeps things simple, as does a plug 'n' play approach for full device configuration. It is worth considering the buying power of a potential connectivity provider. This is because it is helpful to be able to share data provision across SIMs and receive aggregated billing, regardless of which network or networks are accessed.
ANPR is a growth area for vehicle monitoring to enforce clean air zones and fight rising pollution. As local authorities expand their green city initiatives, cellular IoT will play a central role in connecting devices and systems to gather and analyse data. ANPR operators and solutions providers developing and managing their IoT deployments can look to connectivity providers of all-round services for secure, convenient and scalable installation and management.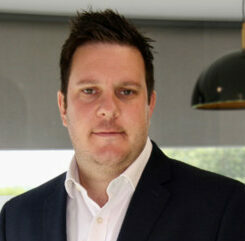 "Justin Godfrey-Cass is Head of Transport Solutions at Wireless Logic, a company featured in 'The Sunday Times Microsoft Tech Track 100 and Deloitte Technology Fast 50. Headquartered in Hurley, Berkshire, UK with 17 offices around the globe"