Today's factories demand flexible manufacturing and wireless connectivity. Manufacturers need to react quickly to shifting customer needs, customisation, and short product life cycles. They require interchangeable processes and equipment that can be reconfigured, modified, and replaced easily with maintenance-free connectors that reduce costs and downtime. However, much of the interchangeable equipment on factory floors still relies on traditional physical connectors that are subject to wear-and-tear and its effect on material costs and industrial productivity.
Imagine a factory where the physical connectors have disappeared; command instructions are sent wirelessly between robot subsystems to change out toolsets and setups quickly and efficiently, increasing production speed while reducing costs. Is this the factory of some distant future? No, not according to Phoenix Contact, one of the leaders in industrial automation, interconnection, and interface solutions and known for its expertise in developing precision connectors.
Phoenix Contact has a vision to leap manufacturing forward today with fast industrial wireless connectors. However, Phoenix Contact needed a collaborative partner with expertise in mmW (RF) technology to get to market faster to achieve its goal. The industrial innovator partnered with Analog Devices, Inc. (ADI), known for its deep domain knowledge and technical expertise, to meet the challenge and co-develop wireless connectors featuring a compact, ultralow latency, protocol-agnostic mmW solution. The next-generation technology will enable industrial wireless connectors to be deployed on a large scale and open the door to a new and potentially lucrative industrial market niche.
At a glance
Company
Phoenix Contact, an industrial automation technology manufacturer and maker of precision connectors, is at the edge of next-generation wireless technology.
Applications
Create wireless robot-to-toolset connectors and solutions for industry, automotive, manufacturing, and equipment.
Challenges
Bring to market a wireless alternative for simultaneous power and data transmission as a compact solution delivering twice the power of competitors on the power side and wirelike/wireline performance on the data side.
Goal
Develop a unique, industrial solution that leaps manufacturing forward to a more flexible wireless system with the unique ability to transfer both data and power simultaneously, while supporting all Ethernet protocols.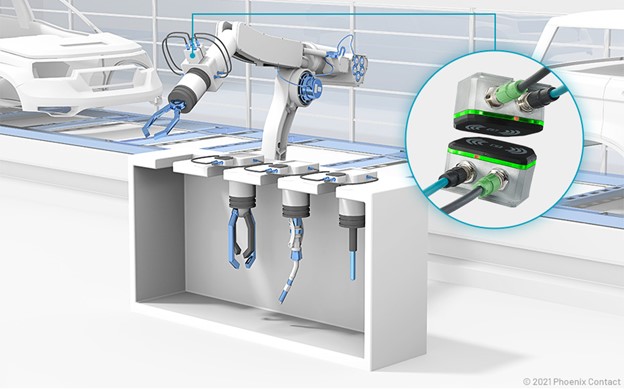 "Due to the high number of mating cycles during tool changes, the useful life of the connectors is significantly reduced because the contacts 'burn off.' They become dirty or bent during constant replacement," said Benjamin Fiene, Product Marketing Communication Interfaces, Phoenix Contact. "This results in downtimes that cannot be predicted or scheduled. The cost for regular preventive maintenance intervals can quickly amount to seven figures."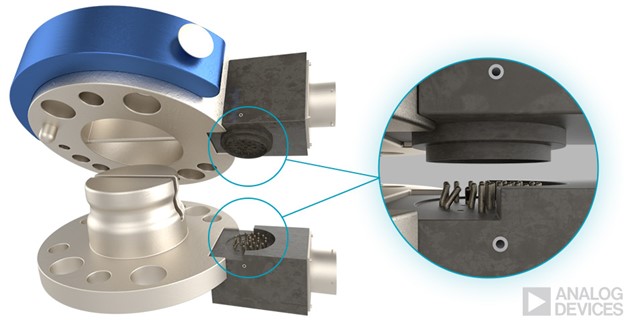 Physical connectors' reliability and useable lifespan are limited in a manufacturing plant's harsh operating environment and require regular maintenance. The plug and socket in a connector must be positioned precisely; otherwise, the delicate pins are quickly damaged. Connector misalignment may result in contact bending and downtime, requiring the immediate replacement of the entire connector assembly.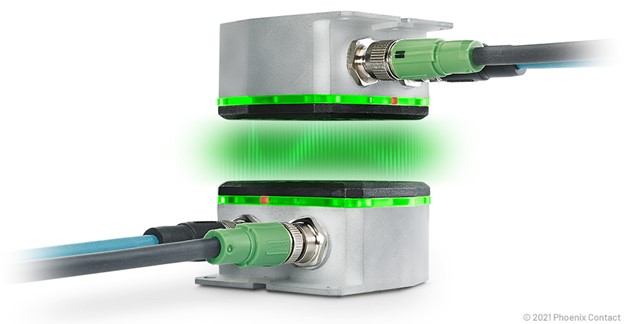 The challenge
With nearly a century of experience and a portfolio of 60,000 products, Phoenix Contact had its finger on the pulse of the industrial automation industry. Focused on increasing productivity and decreasing maintenance costs, it identified high speed, wireless communication as the preferred solution for efficient data transfer from the robot to the tool. The biggest challenge was finding the right wireless technology.
Ideally, the right wireless solution must transmit and receive faster than ever before to ensure real-time communication, include license-free operation, be free of network interference, and support all standard industrial Ethernet protocols – all in a compact form factor. The proposed solution would not just be chip-level but a full system design challenge.
The collaboration: 1 + 1 > 2
"We had a vision for what the final product would look like and were set on developing and manufacturing our own wireless connector. But we needed a partner with expertise in RF technology and found it in ADI," said Frank Hakemeyer, Director Marketing and Development for Communication Interfaces, Phoenix Contact.
"We had the core concept on paper and knew how it should work. We might have purchased the chips from ADI and integrated them into a design, along with connecting antennas, but we felt that we would be operating outside of our core competency. We're experts in industrial Ethernet communication but not specialists in gigahertz RF. If we had decided to ramp up and do everything on our own, we would have needed more time. So, core competency and time to market were obviously big drivers in selecting a partner."
Phoenix Contact turned to long-time partner ADI for its expertise across the RF spectrum. It asked ADI to identify the best technologies, co-design the full RF system, and deliver a complete customised data link wireless solution for its next-gen industrial wireless connectors.
Phoenix Contact first contacted ADI in August of 2017 about its vision and followed up by testing ADI standard transceiver chipset HMC6300/HMC6301.
"I first met with Phoenix Contact in April of 2018, at the largest industrial trade show in the world—the Hannover Messe," said Anton Patyuchenko, Staff Field Applications Engineer (FAE), ADI. "It mentioned it was considering using ADI's original/standard V-band transceiver chipset for its industrial wireless connectors product."
Developed initially for small cell backhaul applications, the HMC6300/HMC6301 included a unique combination of core functional features. These could enable the required ultralow latency wideband operation for time-sensitive industrial systems that Phoenix Contact needed.
"In the course of our following technical discussions, I realized this was going to evolve into a full system design project," said Patyuchenko. "Full system design requires that we engage differently and be brought in early in the process, not expecting to be told exactly what the customer needs. To create real value and engage in collaborative problem solving and exploration, we must thoroughly understand Phoenix Contact's application. It's not something just any semiconductor company can do."
A succession of calls and in-person dialogues followed. On numerous occasions, the ADI team travelled to Phoenix Contact's site, worked with its team, discussed ideas, performed measurements, and answered questions.
In August of 2019, after a year of planning, Phoenix Contact gave the go-ahead to develop the proposed technology. Apart from assigning a special FAE, ADI created a dedicated project team at technology group (TG) level, composed of a core team of six people from various disciplines. Bi-weekly project calls ensued.
What emerged was a new industrial innovation – wireline performance without the wires.
An industrial wireless solution
Phoenix Contact's complete wireless connector solution, named the NearFi coupler, comprises three main functional blocks represented by the data link, power link, and baseband electronics. They are all integrated into a compact design, enabling the final product's seamless adoption into numerous industrial applications. Analog Devices was responsible for developing the data link. Using Phoenix Contact's NearFi Technology, the uplink and downlink signals provide simultaneous data exchange in both directions – i.e., full-duplex operation. The NearFi technology enables a 500 times faster response than 5G. In other words, it's latency-free.
The complete solution for Phoenix Contact
ADI developed a new product based on Phoenix Contact's requirements," said Chris O'Neill, Senior Product Marketing Director, ADI. "It provided us with the key specifications of its target application. It also tested our prototypes, which helped us to identify any weak points and resolve them."
Utilising its RF expertise, ADI integrated the existing transceiver chipset (HMC6300/HMC6301) and two dedicated antennae on a single laminate. To provide a complete custom solution to Phoenix Contact, ADI also developed a dedicated accompanying PCB for powering the laminate and interfacing its baseband part to the end equipment. The result is the ADMV9611/ADMV9621 – a complete 60GHz data link solution and a piece of technology that enabled the new NearFi developed by Phoenix Contact.

Advantages of ADI's complete data link solution
The data link provides a compact and cost-effective data interconnect for the target application and achieves better performance at a lower cost. Other wireless solutions offer low latency communication; however, the ADI data link includes these significant advantages.
Immune to electromagnetic interference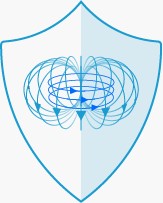 Enables maintenance-free, high speed, and fully reliable data transmission with strong immunity to all electromagnetic interferences.
Immune to contaminated environments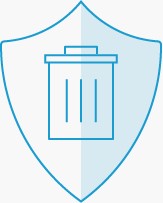 Ensures reliable communication in dusty and contaminated industrial environments (which the solution can 'see' through). This is a key advantage over alternative high speed wireless optical links that dust can obscure.
Handles misalignments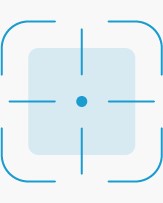 Allows for uninterrupted operation even with high misalignment and at large separation/spacing of the transceiver pair.
Protocol agnostic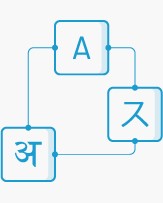 Accepts a full range of Ethernet protocols as the design implementation is completely protocol-agnostic.
Permits coupler co-existence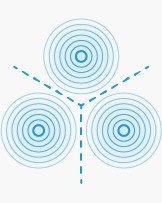 Enables co-existence of several NearFi couplers and other 60GHz applications in a very confined space.
Protocol agnostic: a key business advantage
Significant development is ongoing in the Industrial Ethernet world, including advances in time sensitive networking. But changes won't impact the effectiveness of ADI's data link solution nor contribute to its obsolescence. The 60GHz wireless solution will always transmit in any new design or enhanced protocol, thus making its development an excellent long-term investment.
"The solution enables not only a compact and a cost-effective data interconnect for the target application, but thanks to its high reconfigurability and innovative approach it also becomes a compelling candidate for the elaboration of application concepts of novel art," said Patyuchenko.
Other applications

Phoenix Contact is now poised to leverage its NearFi coupler or transmitting data and power across rotating slip ring applications such as in rotating table mechanisms used widely in production lines: bottle fillers used by the food and beverage industry, manufacturing: automobile assembly plants, communications: the rotating antennas on conning tower at airports, or in renewable resources: the blades of a windmill. Rotating tools or machines spin in a way where wires cannot be used – because they would twist. A wire is not practical in industrial applications where connections need to be made between something stationary and something spinning. So, it uses electromechanical contacts made of brushes and filaments.
These are subject to high mechanical wear and require precise manufacturing, driving up costs and failure rate. Phoenix Contact's NearFi couplers would require only simple, imprecise positions, ensuring reliable, wear-free transmission. Leveraging the NearFi coupler's advantages would allow for transferring data and power across rotating connections in a spinning assembly. The technology would expand both applications and business opportunities for the manufacturer.
A game changer
What emerged from the ADI-Phoenix Contact collaborative partnership was game-changing: a data link for high speed, wireless communication in an industrial environment – one that works with any protocol and has virtually no signal transfer delay. The partnership also gave birth to a new, standalone product – the ADMV9611/ADMV9621 that ADI will offer to other customers for a wide range of industrial applications, starting in the Fall of 2021.
And that's only the beginning. The 'wireline performance without the wires' solution provides ADI with access to a new niche market, which did not exist previously, with significant upside and revenue potential. ADI is investigating adapting its complete data link solution for customers using medical equipment such as computed tomography (CT scan) or other imaging-related equipment.

Over 80 million CT scans are performed in the US each year.
A wide range of other possible applications includes robotic assemblies, industrial manufacturing equipment, and anything where the wireless connector transmission is through a glass wall or liquid – something physical connectors cannot accomplish. It's a multi-multi-million-dollar opportunity.
The road ahead
Challenges along the journey to innovative technology and end use solutions cannot be accomplished alone. To bring products to market faster and generate revenue quicker, companies must choose their partners not only for their technical expertise and deep domain knowledge but the ability to work hand-in-hand.
"ADI co-created both a customised solution for Phoenix Contact and an application for a broad customer base and a multitude of markets," said Mark Barry, General Manager Industrial Automation and Energy, ADI. "Cooperative partnerships like this are needed to advance technology and pull the entire industry forward."
Today, true collaborative partnerships composed of cooperation, participation, and sharing are propelling leading companies, such as ADI and Phoenix Contact, to create complete and impactful solutions while generating mutually beneficial business results.
"In ADI we found a partner for mmW frequency wireless communication to realise our vision of industrial zero-latency wireless communication," said Martin Müller, Vice President, BU Automation Infrastructure, Phoenix Contact.