Lanner, a hardware provider for advanced network appliances and rugged industrial computers, was approached by a customer who was searching for the ideal hardware appliance, capable of supporting the deployment of a K-12 education system.
The system would serve millions of students and teaching staff residing both inside and outside the country. This request came at the height of the COVID-19 pandemic. All distance learning programs and collaborations must be commenced without too much delay in order to ensure continuity.
The requirements
Access to education and collaboration apps
Asynchronous sharing of recorded video and audio files
Edge caching and interconnectivity to cloud service providers inside and outside the country
Multilingual troubleshooting and customer support via one dedicated point of service
Flexible but stable network coverage, visibility, stability and management
The use of end-user portable devices
VPN, anti-DDoS and other e-learning network security protocols
The requested hardware appliance for the said e-learning system must enable the following:
Lanner Solution
The NCA-1510, a small form factor (SFF) desktop network security appliance with no fan, designed for managing edge security at small and medium enterprises, powered by Intel Atom C3000 (codenamed Denverton) CPU.
This appliance features robust performance and Intel's QuickAssist Technology, offering cryptographic acceleration and commercial-grade LAN functions in a 231mm x 200mm x 44mm form factor.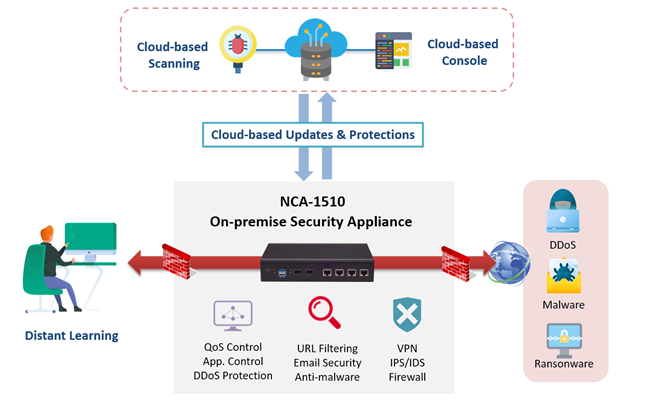 Intel Atom C3000 CPU and Intel QuickAssist Technology, running at 10G, together greatly boost network responsiveness and security by distributing processing power to more critical applications and by offloading computationally intensive compression and encryption/decryption tasks. What's more, the NCA-1510 is also armed with secure boot support for TPM 2.0, K-lock and FIPS compliance.
The NCA-1510 offers 0-50ºC operating temperatures, Intel AES-NI, up to 16 GB of DDR4 2133MHz memory and 6x GbE RJ45 or x4 GbE RJ45 and 2x GbE SFP.
It also provides 1x mini-PCIe slot and 1x M.2 slot with nano-SIM accessibility for function expansion and wireless connectivity via 3G, Wi-Fi or LTE. Other I/O includes 1x mini USB console, 2x USB 2.0, 1x 2.5" HDD/SSD bay and 1x onboard EMMC (8GB).
The benefits
A cloud-based e-learning system security supported by Lanner's NCA-1510 enabled not only remote access SSL VPN connectivity to global e-learning / LMS providers and cloud platforms, but also a holistic portal for complete network management and monitoring.
Also enabled is site-to-site VPN to campuses or other school premises, security profile management such as URL filtering, application control, antivirus and advanced threat prevention services such as forensics, anti-bots, anti-ransomware, and 2-factor authentication.
Airtight and fully integrated security rules and workload runtime protection prevent APTs and zero-days from infecting clouds and workloads. Furthermore, all aforementioned workload runtime protection measures, including firewall, IPS, application control, IPsec VPN, antivirus and anti-bot, are based on and powered by a real-time, cloud-based threat intelligence database, therefore delivering a holistic, at-a-glance insight into multi-cloud environments.
The end result
Lanner's NCA-1510 succeeded in becoming the building block of the ideal distance learning e-system, facilitating secure remote access/connections, threat prevention, synchronised security, identity control and effortless remote setup for the customer so that distance learning program continuity and collaboration during the pandemic were realised without hiccups.

Intel Atom 2 ~8 Cores C3758, C3558 or C3308 CPU (Codenamed Denverton)
4x RJ45, 2x SFP or 2x RJ45 (By SKU), 1 pairs Gen3 (by SKU)
1x 260-pin DDR4 2133/2400MHz ECC DIMM, Max. 16GB
Intel QuickAssist Technology at 10Gbps
Intel AES-NI & TPM Support
1x Mini USB Console, 2x USB 3.0
1x Mini-PCIe, 1x M.2, 1x Nano SIM Accessibility
1x 2.5" HDD/SSD Bay, 1x Onboard EMMC 8GB
Fanless design