Semtech has developed a single chip that supports the use of low power LoRa devices on bands from 150MHz up to 2.4GHz. This opens up the satellite S-band to dramatically simplify the development and global deployment of edge devices that use geolocation.
This geolocation capability enables a wide range of asset tracking and management applications with low power operation that provides multi-year battery life.
The LoRa Edge's platform's LR1120 transceiver uses both GNSS satellite signals, and Wi-Fi MAC addresses, to deliver highly accurate geolocation information. It also adds the ability to communicate in both 2.4GHz using LoRa, as well as S-Band support for satellite connectivity.
The LoRa Edge LR1110 has been used in tracker designs that feed data via the sub-GHz bands at 868MHz in Europe and 915MHz in the US to a nearby LoRa gateway. Geolocation algorithms running in the Cloud use this data to provide tracker location. This minimises device power consumption and boosts battery lifetime. While sub-gig deployments of LoRa work for many use cases, the additional capabilities of LR1120 means that additional use cases that require continuous global connectivity can now be addressed.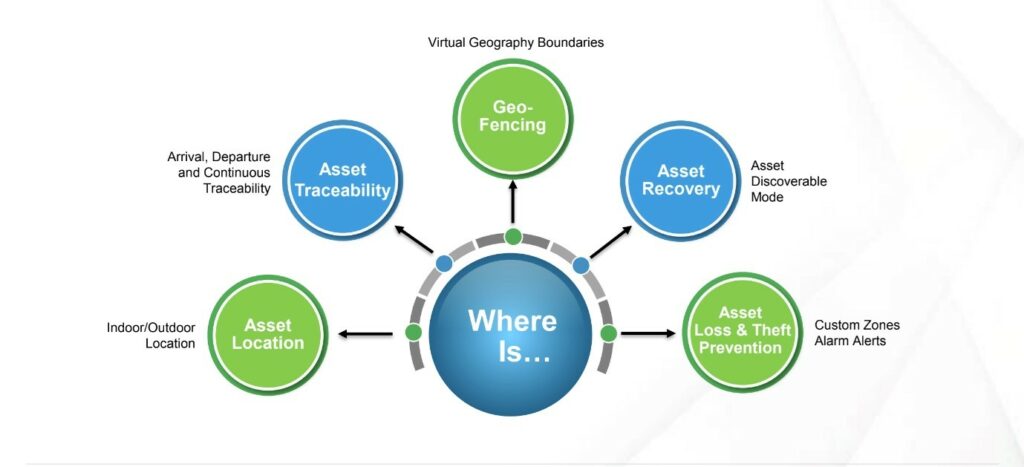 Continuous global connectivity is a significant benefit for many supply chain applications that often require the uninterrupted ability to track equipment on the road and in containers at sea.
Geolocation needs to function globally, so the LR1120 opens up a new set of connections to a LoRa-enabled satellite in low earth orbit. Several satellite operators are launching networks that will connect directly to sensors and trackers on the ground that use a protocol called Long Range – Frequency Hopping Spread Spectrum (LR-FHSS). This is a rapid frequency hopping technique designed to offer higher network capacity while offering the same radio link budget as LoRa. LR-FHSS also provides additional RF interference immunity.
And its compatibility with terrestrial LoRa networks allows a single tracker design to sniff the local radio environment to determine its location anywhere in the world and directly transmit location data to a satellite circling the globe in low earth orbit.

The LoRa Edge LR1120 is designed to comply with the physical layer requirements of the LoRaWAN standard specification released by the LoRa Alliance, while remaining configurable to meet different application requirements and proprietary protocols.
The LR1120 supports the worldwide ISM frequency band's support of 150 – 960MHz (Sub-GHz), with up to +22dBm output power, and LoRa 2.4GHz with up to +11.5dBm output power, as well as 1.9-2.1GHz (S-Band) connectivity. This can dramatically simplify the rollout of geolocation platforms at the edge of the network as it means a single tracker design can be used worldwide across a variety of network options, simplifying network management.
The tracker sends available geolocation data, including GNSS & Wi-Fi MAC IDs to the cloud for generating requested latitude and longitude coordinates to the customer's application. Solving position in the cloud is a key differentiator for LoRa Edge, ensuring best in class power efficiency to maximize the battery life.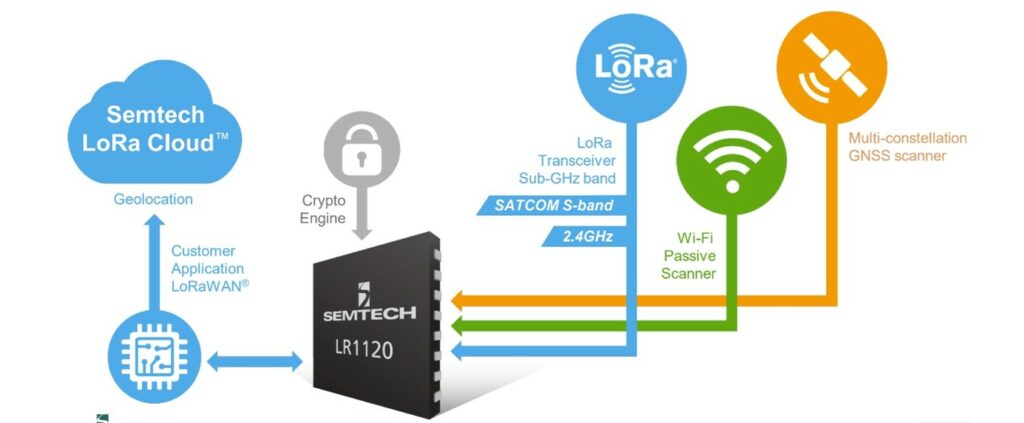 Adding the satellite S-Band and LoRa 2.4GHz capabilities opens new opportunities for IoT. The sub-GHz band in Europe has a 1% cap on the time available to send data to prevent a single user from dominating the band. Adding LoRa 2.4GHz capability allows a sensor node access to higher bandwidth for different types of sensor data, although with a shorter range. These can also utilise the LR-FHSS modulation to provide more rugged connections in 2.4GHz environments that may be congested with other networks such as Wi-Fi, Bluetooth, Zigbee and Matter.
With LoRa 2.4GHz, the LR1120 provides data rates up to 100kbit/s with a range of 200 to 300m in complex, dense environments to reliably deliver data from sensors. This allows sensors to continuously monitor machine health, predictively scheduling maintenance and reducing unscheduled downtime.
This drives the use of multi-band gateways with both sub-GHz and 2.4GHz LoRa capabilities. Using a single chip for high volume tracking applications increases demand for gateways that cover bands from 150 to 960MHz in sub-GHz and 2.4GHz in high bandwidth networks. Again, this helps drive economies of scale with one gateway design working across the globe.
The Application Programming Interface (API) is configurable to use LR-FHSS as well as the physical layer requirements of LoRaWAN.
The chip also integrates a cryptographic unit to support AES-128 encryption algorithm as well as handling device parameters such as the 64-bit globally unique Extended Unique Identifier (EUI-64) assigned by the end device manufacturer and defined by the LoRa Alliance.
The 2.4GHz LR1120 is pin compatible with previous generation components and has the same power consumption to simplify upgrading for global geolocation. One device can now be used globally in a single design that dramatically simplifies the cost and management of an extensive variety of geolocation trackers.