As per the report by Global Market Insights, "Worldwide Edge AI market was valued $5bn in 2022 and will surpass a revenue collection of $100bn by 2032 with an annual growth rate of 35% over 2023 to 2032."
Global Edge AI Market size is predicted to expand considerably throughout the forecast period 2023 to 2032 due to the rising consumer inclination towards smart homes.
Integration of supports monitoring of temperature, gas density, humidity, and home security. Increased customer expectations and a rise in the availability of such advanced gadgets are predicted to boost the market share for Edge AI.
Furthermore, the growing demand for consistent data access and low latency across industries is fuelling the need for powerful infrastructure. Using technologies, businesses can achieve significant cost and performance savings.
In April 2021, multinational technology company, Intel, introduced third-generation Xeon scalable CPU which allows for the implementation of a flexible and scalable infrastructure. It can enhance workloads related to 5G, AI, and other high-performance computing, network security, and Clouds.
Moreover, the increased acceptance of remote working since the Covid outbreak is another factor influencing the industry's growth. Edge AI enables businesses to securely grant access of internal resources to their distant workers. Additionally, it lowers the price and maintenance expenses related to physical network infrastructure.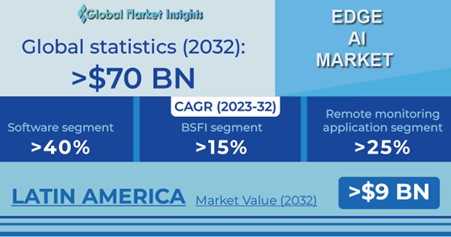 Based on component, the services segment of the market is anticipated to grow at a rapid pace during the forecast period resulting from the global development of Edge-based technology. Further, the subdivisions comprising training and consulting, system integration and testing, and support and maintenance make up the service market segment.
Due to the rising demand for dependable and low-latency data access throughout all companies, the system integration and testing segment will continue to expand. Furthermore, the expansion of the support and maintenance segment is attributed to its capacity to help organisations give speedy remote assistance for reducing network outages which will boost the overall market share.
In terms of end user, the government segment is anticipated to exceed $3bn by 2032 owing to the increasing adoption of helping government offices to consolidate and centralise their IT resources to enable users to access the system anytime from anywhere. The growing digitisation and need for robust wireless connectivity across government agencies are fuelling market growth. For instance, MEA governments are digitalising all of their departments and services, improving their infrastructure, and providing new services like e-applications that speed up administrative processes.
Depending on application the market the segmented as video surveillance, remote monitoring, predictive maintenance, and other segments. The adoption of telemetry in the healthcare industry is covered in the other category. This technology aids in the automatic detection of abnormalities in the operation of telemedicine devices. Telemetry in medical equipment also helps with patient management, diagnosis, and treatment from a distance. Such a wide range of Edge AI applications will promote industry growth.
Regionally, the Middle East Edge was valued at over $500mn in 2022 as several telecom operators are increasingly emphasising on trials and deployment of 5G across the region accelerating revenue growth. Soaring demand for Edge computing and data centres owing to the development of smart cities in Saudi Arabia and the UAE has led to massive investments in the IT sector, especially in GCC countries like Saudi Arabia, the UAE, and Qatar will push the market growth further.
The Edge AI market consists of Anagog Ltd., Amazon Web Services (AWS), Dell, Google (Alphabet Inc), Gorilla Technology Group, Huawei Technologies Co., Ltd., IBM Corporation, Imagimob AB, Intel Corporation, Microsoft Corporation, MediaTek Inc.